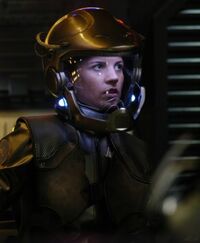 Colonial military staff who are flight-qualified as a pilot wear a flight suit.
A flight suit is a basic pressure suit. It's a versatile outfit that has been designed to be as comfortable as it is useful. Flight suits are worn by both Viper and Raptor crews during missions.
The flight suit is a one-piece jumpsuit with a single zipper from neck to waist in the front. Pressure gloves, which allow for great dexterity for pilot's as they use ship controls, are attached by a soft pressure seal apparently incorporated in the sleeves. The pilot's helmet is connected to the suit by a hard seal collar. This seal also provides pressure to the suit as a whole when connected. The collar receives air from a life support unit attached to the pilot's ejection seat (in the case of Vipers), or attached to a hose. The suit's basic environmental adjustments are managed on a small series of buttons on the left forearm.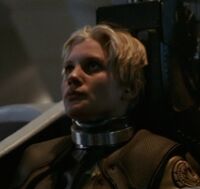 The flight suit can be worn with a helmet but with the visor cracked open and vented to the outside air, which allows quick connection to life support but allowing crews in larger craft, such as Raptors, to move about the cabin without hoses.
When pilots are not in flight, the suit is unzipped for comfort. Pilots often roll down the top half of the suit when off-duty or while they are performing hard work. Basic crew fatigues are worn underneath a suit, without the formal officer tunic. Pilots wear standard undershirts under a flight suit.
Flight suits appear suitable as all-weather gear when in rainy or cool conditions, but they provide no significant protection in combat as they are not armoured. Flight suits can include a utility belt for various gear, including a sidearm.
The flight suit has been used since the First Cylon War without major changes, although a green fabric flight suit has also been used. A black t-shirt was worn during that time instead of the current t-shirt and tank top combination.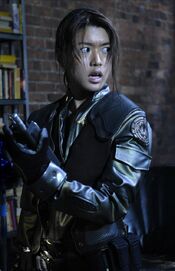 In the right leg of the flight suit a checklist card can be seen upside down (intended for reading while seating).
The card for the viper pilots read as follows:

Viper Pre Flight Checklist
1. Pre Flight
External Inspection......................................................Okay
Flight Controls.............................................................Okay
Tanks filled .................................................................Okay
Canopy Locks and explosive bolts to safe.......................Okay
Seat Motors ................................................................Okay
Weapons to safe .........................................................Okay

2. Start Check
Area...........................................................................Clear
Comms.......................................................................Up
Tacom/Satnav..............................................................Up
Canopy Bolts...............................................................Armed
Escape Seat................................................................Armed
Engine Systems in the Green........................................Green
Weapons in the Green...........................Weapons set to Armed

3. Launch Tube Check
Area.............................................................................Clear
Blast Doors...................................................................Open
Heads Up Display..........................................................On
Tac/Nav........................................................................To Active
Flaps...........................................................................15 degrees down angle
Engines........................................................................85%
Assume Launch Position...............................................Okay
LSO Launch Signal.......................................................Okay
Master Caution Cold Shot Warning.................................Set